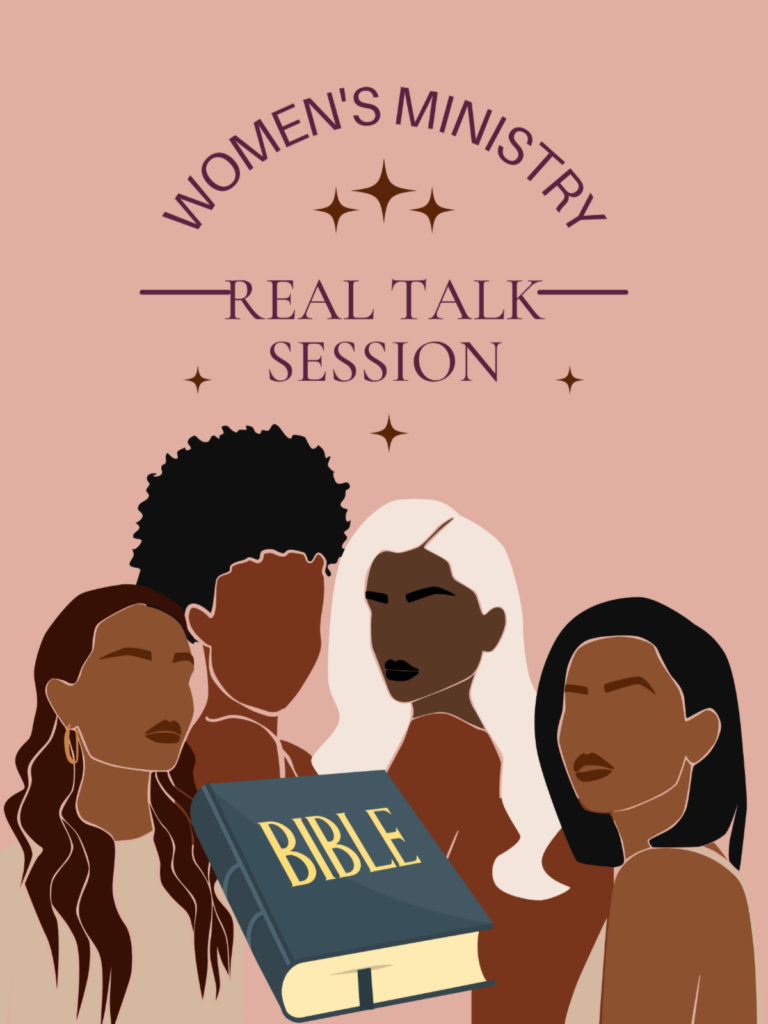 Ladies, you are all invited to fellowship with us on:
Saturday, June 24th
10am-12pm
@ Sis. Kim Sterling's home. Please join us for food and Real Talk conversation led by our very own KB Newton.
To sign up to attend and for more information, please contact Sis. Nicki Arnold at 317-249-7724. Sign-up ends at noon on June 23, 2023.
They deserve a BREAK!
From Sunday, June 4th, volunteers from the Children's and Nursery Ministries (teachers, assistants and junior leaders) are on a much needed break. That means there will be no Children's Church or Nursery care during this time. Each child will receive a resource that they can work on during church service. Both Children's Church and Nursery care will resume on July 9th. Contact Angie McManus with any questions.
Have you thanked our volunteers for all they do to care for our children?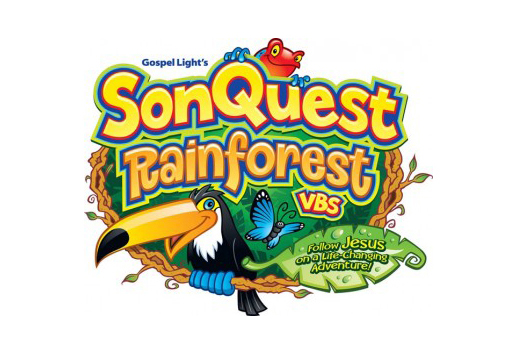 Volunteers for Kids Camp
VBS Training after church this Sunday,
June 25th
in room B101
35 minutes long
VBS IS ALMOST HERE!!
Monday, July 10th – Friday July 14th
6:30pm-8:30pm
This summer, bring your children to SonQuest Rainforest Kids VBS camp. It will take your kids beyond what they can explore with their senses to discover a living spiritual relationship with Jesus Christ, the Son of God!
On-line Registration is available now! Click here.
Or take a few minutes to register after Sunday service!
Adult VBS 2023
Come out and explore this year's cutting edge topics, as our teachers take us into subjects that will challenge us…nourish us and grow us!
Join us on M-Th, July 10-13 at 6:45 pm
Place: SUNDAY SCHOOL TECH ROOM!
Contact Elder Marcellus Martin for any further information.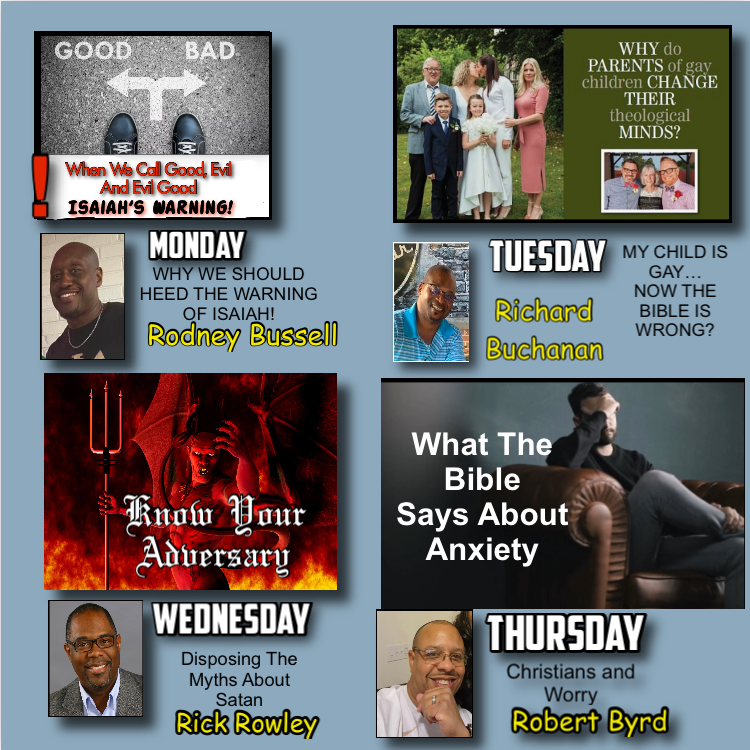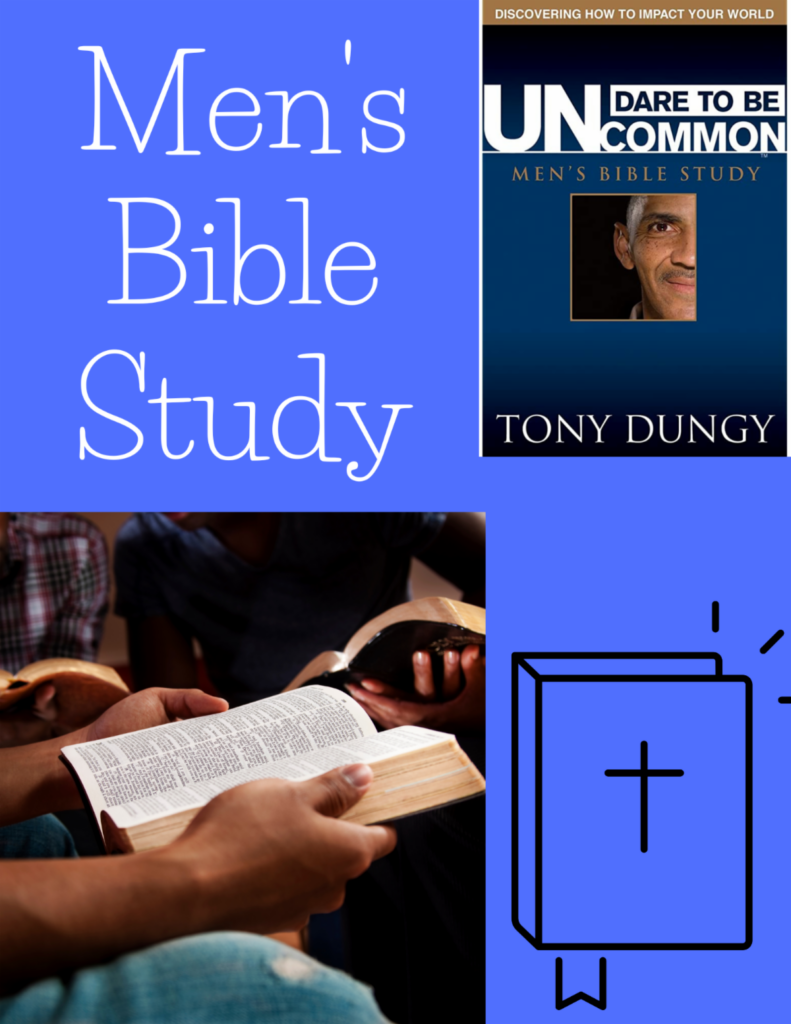 Solid Brother's Ministry
Saturday, June 24th at 8:30 am.  Join us for the final session of our men's Bible study at 8:30 am! We will be discussing the topic of "Live Your Faith – Building on the Foundation for an Uncommon Life". This study allows you to examine your life and aspire to a life of renewed integrity, influence, and faith. The lessons we are exploring in this study are issues that men wrestle with their entire lives.
We will also have a pitch-in breakfast. Please bring your favorite breakfast item to share. Meat items will be provided. If you have any questions, reach out to Brothers Maurice Taylor or Fernando Patterson. We hope to see you there!
On June 30, 2023, Rophe Free Clinic celebrates it's five year anniversary. We send our congratulations and a thank you to the Solid Word members who serve our Lord and Savior through Rophe:
Kathy Baskin Dwayne Baskin
Guenet Williams Joseph Haskins
Nedra Hayes Dr. Robert Cater
Paul Clayton Lovette Coston
Kerstin Goode-Thiel Curtis McManus
Terri Anderson Lauren Stokes
Richard Rowley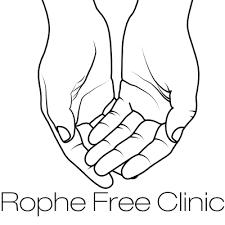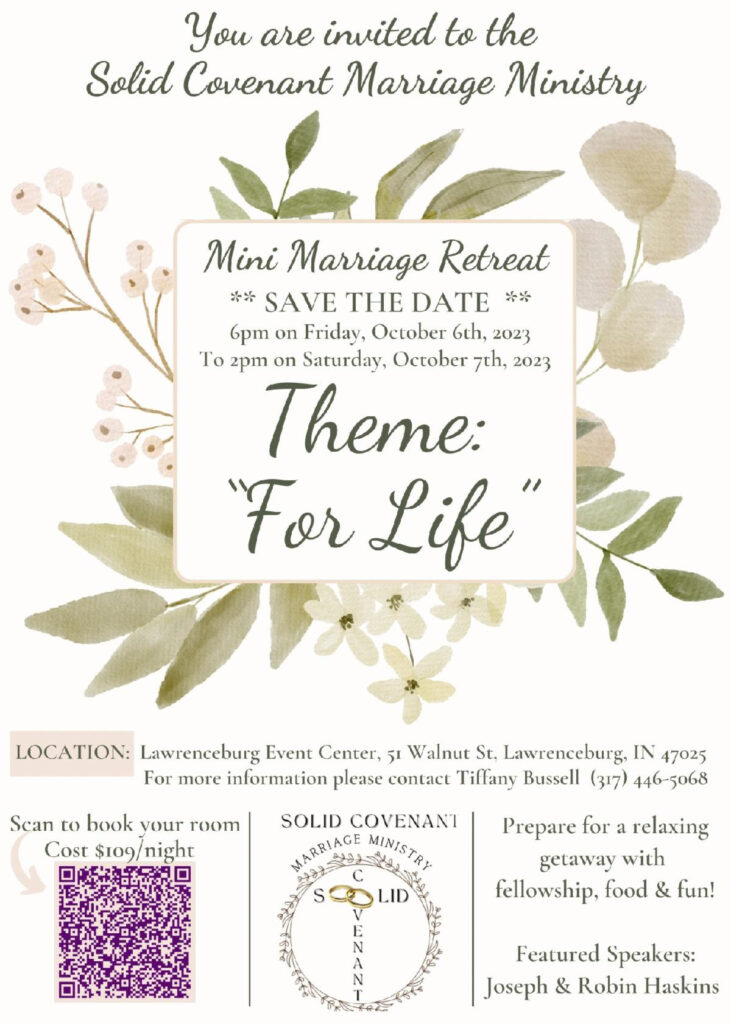 Mini Marriage Retreat
SAVE THE DATE
Friday, October 6th, 2023, 6 pm to Saturday, October 7th, 2023, 2 pm
Please see the flyer for further information. For any questions or concerns please contact Tiffany Bussell (317)446-5068
Join Us for "Know What You Believe"
each Sunday at 9:15 AM as we will dive into why the Holy Spirit led the early church leaders to the 66 books we hold as canon or authoritative! 
Contact: Elder Marcellus Martin (317-201-4492.)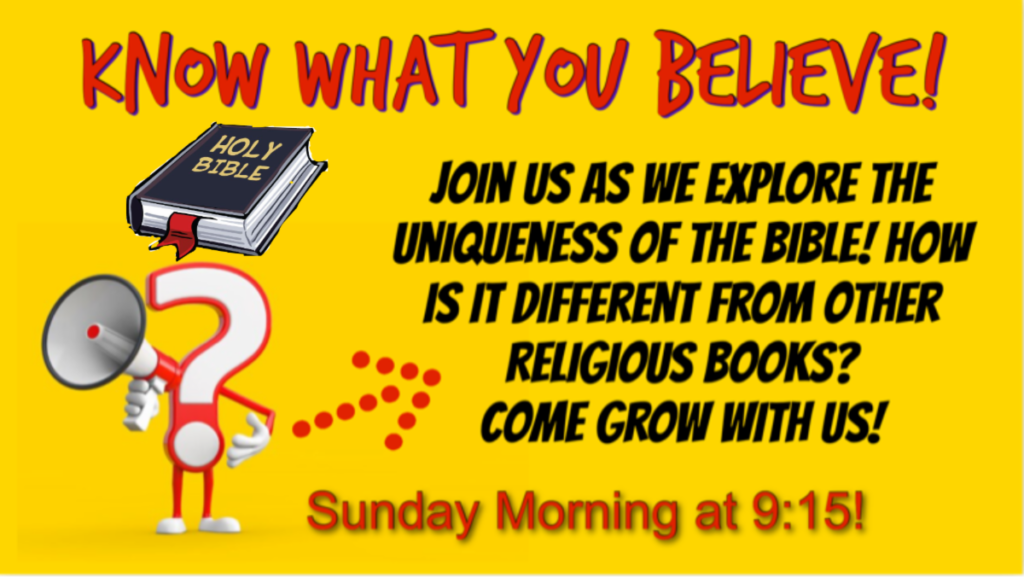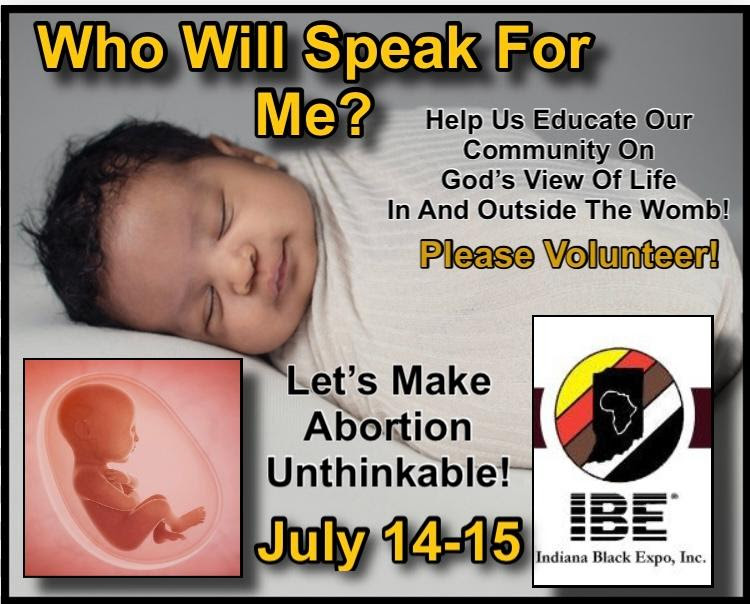 Volunteers Needed
Proverbs 31:8 says,"Speak up for those who cannot speak for themselves, for the rights of all who are destitute." You can help at this year's Indiana Black Expo to educate our community about abstinence, disease and adoption options!  
Table volunteers are needed at the Expo! Maybe this is your year to make a difference for time and eternity! 
Contact Marcellus Martin at 317-201-4492, if you want to sign up Expo weekend.
Thursday Night Bible Study at 7:00 pm
"For everything that was written in the past was written to teach us, so that through the endurance taught in the Scriptures and the encouragement they provide we might have hope." Romans 15:4
Attend in person or click Bible Study to join virtually.
Meeting ID: 899 0198 1351
Passcode: 856367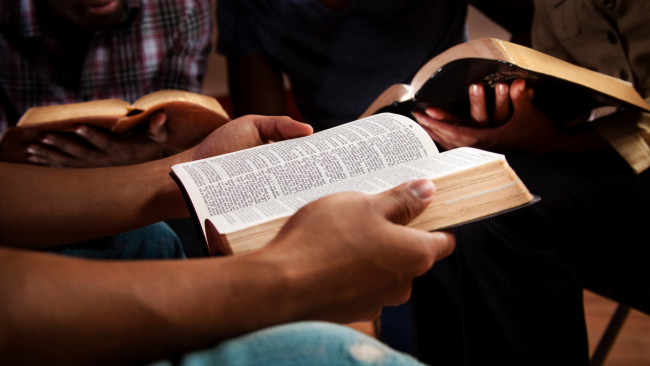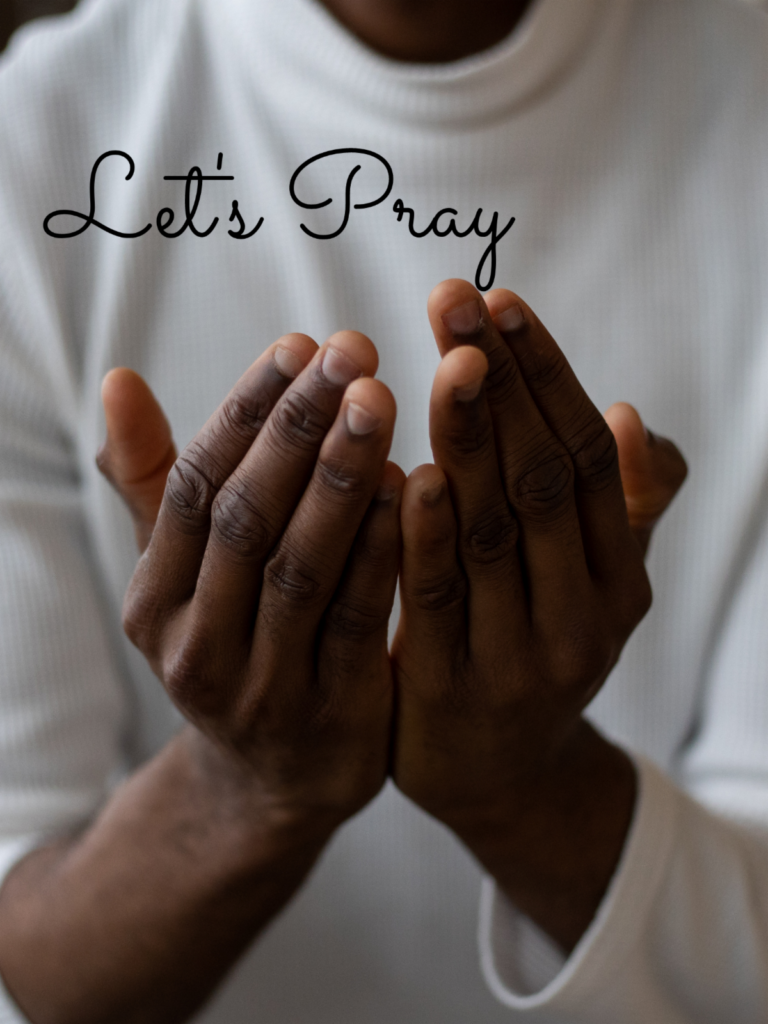 Pride is much more difficult to discern than any other corruption because, by nature, pride is a person having too high a thought of himself. Is it any surprise, then, that a person who has too high a thought of himself is unaware of it? He thinks the opinion he has of himself has just grounds and therefore is not too high. As a result, there is no other matter in which the heart is more deceitful and unsearchable. The very nature of it is to work self-confidence and drive away any suspicion of evil respecting itself. 
Another pattern of spiritually of proud people is to behave in ways that make them the focus of others. It is natural for a person under the influence of pride to take all the respect that is paid to him. If others show a disposition to submit to him and yield in deference to him, he is open to it and freely receives it. In fact, they come to expect such treatment and to form an ill opinion of those who do not give them what they feel they deserve.  
Adapted from "Some Thoughts concerning the Present Revival of Religion in New England" from The Works of Jonathan Edwards (Banner of Truth).
Will you join us in prayer?
Each Thursday morning at 11:00 am, Elder Jerry Lander leads us in an hour of directed prayer and meditation. We would love to have you pray with us.
Click here to join: SWWeeklyPrayer by Zoom meeting. Or dial in to participate by calling +1 929 205 6099. Meeting ID: 820 7218 9430 Passcode: 116820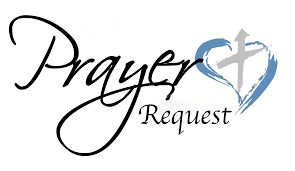 Do you have a specific need that you would like us to pray for, or notifications of death? You can send an email to info@solidword.org
Please pray for:
Michael Johnson
The Lasley Family
LaShanda and Brian Gude
The Carter Family
Cameron and Stephanie Johnson
Khajae Henry
Twannette Harrington
George Johnson
Church Calendar
Online Prayer Meeting – Thursdays at 11:00 am via Zoom
Bible Study – Thursdays at 7:00 pm in person and via Zoom
Worship Services – Sunday's at 10:30 in-person and online
If you have an announcement for the newsletter, please send it to info@solidword.org by the end of the day Monday for inclusion in the weekly publication.

Preferred Option: Use your bank's online bill-pay service. Use the same feature used to pay your bills online directly from your bank account. Your bank will mail a check to the church at no cost. When you use this option, the church does not pay a processing fee so that all of your gift is used to support the ministry.
Additional Options:
Mail your check to: Solid Word Bible Church, 4374 W. 52nd Street, Indianapolis, IN 46254
Bring your gift directly to the church on Sundays during the 10:30 am service and deposit in the designated box near the sanctuary doors.
Give online at: SWBCGive
Giving for the week of June 11-17, 2023, was $9,116.11.